Effective December 24, 2017, the following UPS rates will change:
UPS Ground, UPS Air and International services will increase net 4.9%. UPS Air Freight between the U.S., Canada, and Puerto Rice will also increase by this amount
The Large Package Surcharge will be applicable on any domestic package over 96 inches in length or a length plus girth more than 130 inches.
The DIM weight divisor will be 139 for all U.S. Domestic packages less than or equal to one cubic foot.
UPS Freight rates will increase by an average net of 4.9%.
Effective July 8, 2018, the following UPS services will change:
The Large Package Surcharge for any U.S. Domestic package will be $90 for a residential delivery.
The Additional Handling Surcharge will be $19.00 for any domestic package over 70 lbs. in actual weight.
Impact
Those using UPS ground services will see increases between 4.5% and 5.5% on average. For a package that weighs between 1-5 lbs., for example, the average increase is 4.5%. Most weight groups, with the exception of lightweight packages, will be about 5% higher for Next Day Air Services. The Lightweight SurePost packages that are less than 10lbs will see higher hikes in the vicinity of 7-8%.
Service Minimums
UPS's strategy of raising Service Minimums might indicate they are looking to this area as a greater source of revenue. The following chart compares the minimum charges from 2017 to in 2018.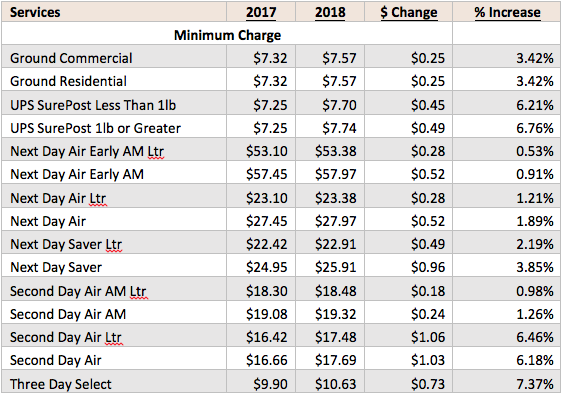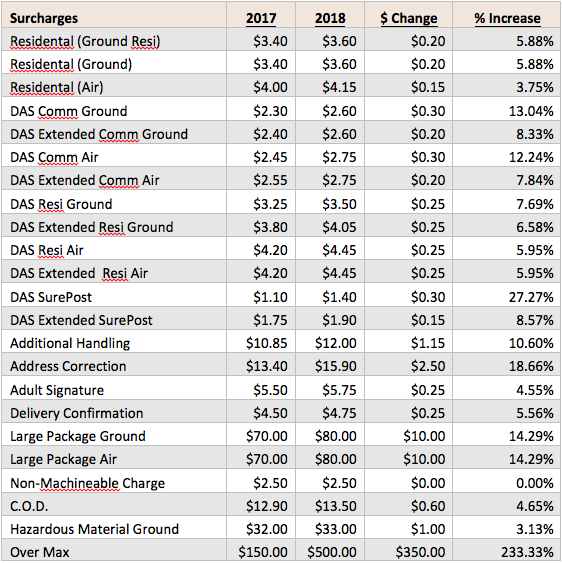 Many of the more significant Minimum changes are within the 2nd and 3rd Day Services, indicating that UPS's Ground network is gaining efficiencies and can handle an increase in packages in those lanes. UPS wants to protect the margins on their air delivery when needed to meet the 2-day or 3-day delivery window.
Overall, the percentage differences for surcharges are exorbitantly higher than for services. Something as basic as an address correction has jumped from $13.40 in 2017 to $15.90 in 2018, a difference of 18.66%. Perhaps the most noticeable is the Over Max Surcharge which is going from $150 to $500, almost tripling!
As far for the industry, it may have reached a tipping point with regard to B2B and B2C shipping. It will be interesting to see the impact on shipping come this holiday season and for shippers going into 2018. Clearly, the trend in ecommerce growth will continue for the foreseeable future.